Here at Freedom Consulting Group, we come from all different walks of life, combining our collective skills and backgrounds to rocket forward on our shared mission. In Jamie Nussle's case, when we say a different walk of life…we mean it. Get to know FCG's Athletic Training degree-wielding HR Manager in this month's edition of My Unusual Degree.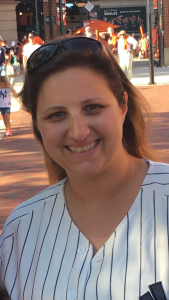 So we hear you have a bit of an unusual degree for someone at Freedom Consulting Group. Tell us about it!
In my previous life, I got a degree, passed a certification exam, and actually worked as a Certified Athletic Trainer! I keep my credentials active so you can refer to me as Jamie Nussle, ATC, anytime you want.
How did that educational path end you up at FCG?
Haha, I have no idea how I ended up here! Actually, after moving to the area for my husband's new job, I was looking for a job with less nights and weekends required, and found a job posting for FCG on Craigslist of all places! I applied, interviewed, was hired, worked hard, and proved myself so that I was able to advance from Administrative Assistant to HR Manager in just 3.5 years while raising newborn/infant/toddler twins during that same time…please, do not make me go back to that time in life!
What are some ways that your degree has helped you in this field?
That's a hard one. Athletic Training is more of a "doing" profession rather than learning from classes or books. That being said, I think I'm great under pressure and in dealing with people, especially in difficult situations. I work quickly and am very responsive, a necessity in Athletic Training!
I think my ability to show compassion in certain circumstances is something I gained from my time as an ATC and I'm also very straightforward and honest, which I found was a trait my athletes and their parents really appreciated. I hope our employees do also!
Do you find you approach problem solving in a different way because of the influence of your program?
Absolutely! With Athletic Training, you are on the frontlines to diagnose and treat an injury right when it happens. You have to figure out what happened, how it happened, when it happened, and what you can do to make it better, all in a relatively short amount of time in most cases. I try to apply that to my role at FCG as well. I try to get as much information as I can in as short a period of time as possible, make a decision with how to move forward, and put that into action however necessary.
What advice would you give to current college students in a program similar to the one you graduated from?
Love it. Love what you are doing for however long you decide to be doing it. Keep fighting for recognition. And know that even if it doesn't end up being your long-term career, you will make a difference in the lives that you touch!
Thanks, Jamie! No matter where you come from, when you're a part of the FCG team, you're right where you belong. Got a wacky degree or background? Comment below and you could be featured in next month's spotlight!